So a quick update, I haven't been able to really work on music or anything from Dec 2012 until fairly recently due to major medical condition. I know you all care about me, so I decided to let you know why there have been so few updates. That said, with all that now in the rear view we can move into 2014 with great new projects!
I have never had so much respect for life as I do now, and I have never been so aware of how short life is until this year. So expect lots of new content this year.
My latest release, a collab record between LDonthecut (producer and DJ for Sublime with Rome), is available on itunes, or if you are on my mailing list I will likely get you a preview for free and if you like it please support it.If you do not want to wait you can go ahead and get it off itunes here:
Thoughtsarizen and LDontheCUT: Root to Seed EP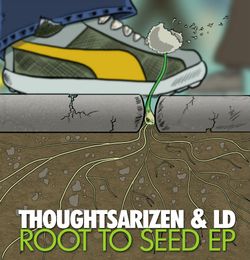 A quick PR for those interested:
Technicali Sound Presents: Thoughtsarizen and LDontheCUT: Root to Seed - EP
We are very proud to present the latest from the collective minds of Thoughtsarizen and LD, Root to Seed, an EP.

Completely produced by Technicali and Sublimes own LdontheCUT, this
project brings an alternative sound to the conveyor belt of indie releases
and chooses to spice it up. Paying homage to music such as punk, blues,
and rock in the form of the sampled production and lacing it with insightful
almost extroverted lyrics the EP is something a little different, and worth the time to listen to.
Featuring guest appearances from LMNO of the visionaries, Akil of Jurassic
5, Braille of Humblebeast, and Ariano of Technicali fame, the 7 song
brainchild of Thoughtsarizen and LdontheCUT shows what experience and a
willingness to share can create. Expect something amazing.
I also have some new releases coming soon, a new album with LD featuring Bubba Sparxxx, Sleep, Madchild, and Killah Priest. A new B-sides "Hungry Haskvitz" which features, Josh Martinez, LDonthecut, Ariano, Killah Priest, Akrobatik, DL Incognito, Castor Pollux and more.
I promise to update this site every month at least.
Also if you havent checked this out yet, please do so. A Remix of Arianos single off "Everything you can't take with you" That I did right after I started recovering. Click the pic to preview in itunes. And below a remix of the original track "stand in line"
Thats about all I got for now, but expect lots of new tracks, tours, and freebies soon!